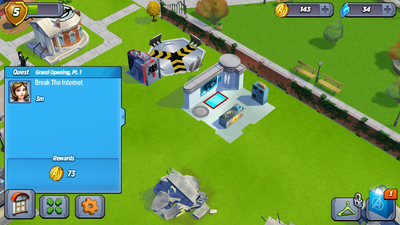 Grand Opening, Pt. 1 is a Storyline Quest. Wasp is getting ready to open Van Dyne's Outfits.
Requirements
Edit
| Character | Action | Time | Location |
| --- | --- | --- | --- |
| Wasp | Break The Internet | 3m | Paths |
Quest Dialogue
Edit
Pre-Action
Wasp: Tony! I need your help spreading the word about Van Dyne's grand opening!
Iron Man: I don't even know what that means...
Wasp: Shut up and do it!  I'm freaking out!
Post-Action
Iron Man: I think you'll get a great turnout. Even though I still don't know what your store is gonna sell...
Wasp: Outfits that look incredible, and give you new abilities!
Iron Man: Okay. That sounds amazing. I think you can relax...
Wasp: YOU RELAX!
Ad blocker interference detected!
Wikia is a free-to-use site that makes money from advertising. We have a modified experience for viewers using ad blockers

Wikia is not accessible if you've made further modifications. Remove the custom ad blocker rule(s) and the page will load as expected.