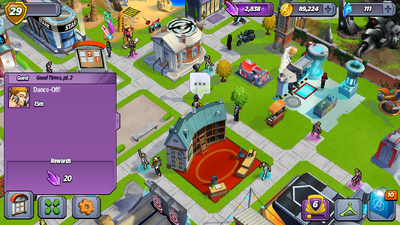 Good Times, pt. 2 is a Storyline Quest and part of the Guardians of the Galaxy event. Club Galaxy has been built, it's time for a party!
Requirements
Edit
| Character | Action | Time | Location |
| --- | --- | --- | --- |
| Star-Lord | Dance-Off! | 15m | Club Galaxy (dance floor) |
Quest Dialogue
Edit
Pre-Action
Odin: Greetings, Peter Quill. Are you preparing for battle?
Star Lord: I'm preparing to get down and funky. Battle after that...
Odin: You remind me of one of my sons.
Star Lord: Thanks!
Odin:That's not necessarily a compliment.
Post-Action
Odin: Are you ready for battle?
Star Lord: Definitely. I'm feeling really limber. Pretty positive. Just the right amount of sweaty...
Odin: I hope you realize that if Ronan gathers all of those Energy Crystals, it could mean doom for us all...
Star Lord: Don't sweat it, Odin. I'll be doing the dooming around here...
Ad blocker interference detected!
Wikia is a free-to-use site that makes money from advertising. We have a modified experience for viewers using ad blockers

Wikia is not accessible if you've made further modifications. Remove the custom ad blocker rule(s) and the page will load as expected.