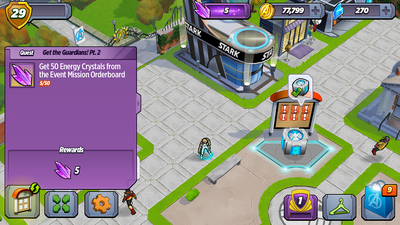 Get the Guardians! Pt. 2 is an Event Quest for the limited-time Guardians of the Galaxy event. Iron Man decides that they should do exactly what Ronan told them not to do—rescue the students trapped in the escape pods!
Requirements
Edit
Get 50 Energy Crystals from the Event Mission Board
Quest Dialogue
Edit
Pre-Action
Iron Man: We need to get as many energy crystals as we can. We can use the power to build stuff to help us fight back, and something tells me we definitely don't want Ronan to get a hold of them...
Loki: I hate aliens.
Ms. Marvel: I wish Captain Marvel was here...
Captain America: I have your back, Tony.
Baron Zemo: I am enjoying this sudden influx of purple.
Black Widow: I just wanna hurt these guys. Did you scan them for weaknesses?
Iron Man: They're all wearing some kind of personal force fields. I'm sure I can disrupt them, but it'll take time. Until then, none of us will be able to hurt them...
Black Widow: In the meantime, I'll find out what made a giant decapitated robot head fall from outer space, and smash my favorite tree...
Post-Action
Black Widow: Did you figure out how to disrupt their force fields?
Iron Man: Not yet. I got distracted when I heard one of the Chitauri guys yell 'meatloaf.' J.A.R.V.I.S. thinks I misheard, but I figure it might be one of those words that's the same in every language...
Black Widow: Just hurry up. I can't get any intel from them, so I'm gonna open one of the escape pods. It'll take forever to crack the lock, so I'll start with the one labeled Star-Lord. I figure he must be their leader...
Iron Man: Good call. He sounds like a really serious and powerful guy. Probably some sort of royalty...
Ad blocker interference detected!
Wikia is a free-to-use site that makes money from advertising. We have a modified experience for viewers using ad blockers

Wikia is not accessible if you've made further modifications. Remove the custom ad blocker rule(s) and the page will load as expected.