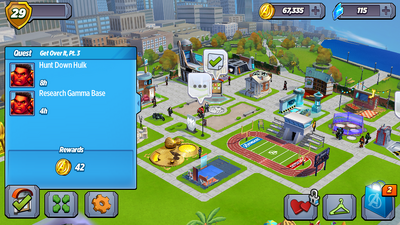 Get Over It, Pt. 3 is a Event Quest, and part of the Gamma Attack! Event. Red Hulk and Enchantress are ready to capture the Hulk!
Requirements
Edit
| Character | Action | Time | Location |
| --- | --- | --- | --- |
| Red Hulk | Hunt Down Hulk | 8hr | The Quinjet Hangar (Quinjet) |
| Red Hulk | Research Gamma Base | 4hr | S.H.I.E.L.D. H.Q. (inside) |
Quest Dialogue
Edit
Pre-Action
Enchantress: Here we are at the moment of truth...
Red Hulk: Sounds funny coming from a known liar.
Enchantress: Just bring me Hulk, and we'll both be known as conquerors...
Post-Action
Enchantress: Where's Hulk?
Red Hulk: Gone.
Enchantress: You know that I need him here to siphon his power, and turn him into our pawn. And why are you smiling?
Red Hulk: I've been chasing Hulk for so long that I was starting to doubt if I'd ever find him, and bring him to justice, and put him down for good. I didn't find him this time, but I found a way to do all three...
Ad blocker interference detected!
Wikia is a free-to-use site that makes money from advertising. We have a modified experience for viewers using ad blockers

Wikia is not accessible if you've made further modifications. Remove the custom ad blocker rule(s) and the page will load as expected.