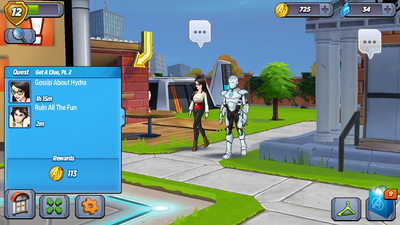 Get A Clue, Pt. 2 is a Premium Quest. Spider-Woman is looking to compare notes with Loki.
Requirements
Edit
| Character | Action | Time | Location |
| --- | --- | --- | --- |
| Spider-Woman | Gossip About Hydra | 1hr 15m | Club A (bar) |
| Loki | Ruin All The Fun | 2m | Club A (bar) |
Quest Dialogue
Edit
Pre-Action
Spider-Woman: How do you like the Academy?
Loki: How do you think?
Spider-Woman: I think you hate it, but you love what it's hiding.
Loki: And what exactly is it hiding?
Spider-Woman: Let's find out...
Post-Action
Spider-Woman: Do you recognize that energy signature?
Loki: Do you?
Spider-Woman: You aren't really gonna share any information, are you?
Loki: I prefer misinformation.
Ad blocker interference detected!
Wikia is a free-to-use site that makes money from advertising. We have a modified experience for viewers using ad blockers

Wikia is not accessible if you've made further modifications. Remove the custom ad blocker rule(s) and the page will load as expected.