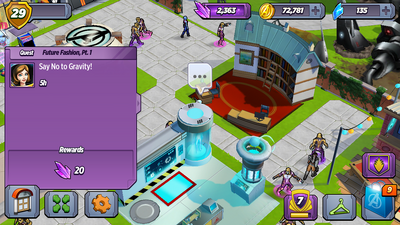 Future Fashion, Pt. 1 is an Event Quest in the Guardians of the Galaxy Event. This quest only spawns after you unlock the Retro-Futuristic Wasp Outfit. Wasp wants to test her anti-gravity blaster.
Requirements
Edit
| Character | Action | Time | Location |
| --- | --- | --- | --- |
| Wasp | Say No to Gravity! | 5hr | Paths |
Quest Dialogue
Edit
Pre-Action
Retro-Futuristic Wasp: I can't wait to try out my anti-gravity gun!
Black Widow: You can already fly...
Retro-Futuristic Wasp: I know! My life is amazing!
Post-Action
Star Lord: That was pretty sweet. We should go hovering sometime...
Retro-Futuristic Wasp: Keep it in your holster, Star-Lord. I'm on a space mission...
Ad blocker interference detected!
Wikia is a free-to-use site that makes money from advertising. We have a modified experience for viewers using ad blockers

Wikia is not accessible if you've made further modifications. Remove the custom ad blocker rule(s) and the page will load as expected.