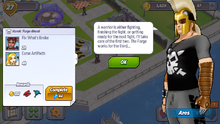 Forge Ahead is a Heroic Mission Board Quest. Ares says, "A warrior is either fighting, finishing the fight, or getting ready for the next fight. I'll take care of the first two. The Forge works for the third..."
Requirements
Edit
| Character | Action | Time | Location |
| --- | --- | --- | --- |
| Falcon | Fix What's Broke | 2hr | The Asgardian Forge (anvil) |
| Enchantress | Curse Artifacts | 4hr | The Asgardian Forge (magic pool) |
Ad blocker interference detected!
Wikia is a free-to-use site that makes money from advertising. We have a modified experience for viewers using ad blockers

Wikia is not accessible if you've made further modifications. Remove the custom ad blocker rule(s) and the page will load as expected.