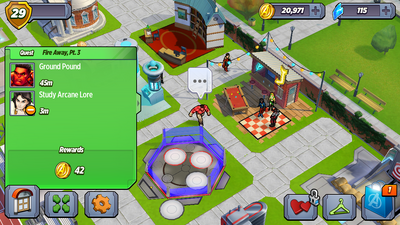 Fire Away, Pt. 3 is a Event Quest, and part of the Gamma Attack! Event. Loki is offering his help to Red Hulk.
Requirements
Edit
| Character | Action | Time | Location |
| --- | --- | --- | --- |
| Red Hulk | Ground Pound | 45m | Quad (bottom left) |
| Loki | Study Arcane Lore | 3m | The Timeless Archives (floating book) |
Quest Dialogue
Edit
Pre-Action
Loki: I understand you're searching for the green you...
Red Hulk: Prance out of my sight before I skewer you with that stupid stick.
Loki: You're just as angry as I am, but absurdly worse at disguising it. I can help you find your enemy, and get your revenge, Rulk. If you're willing to help me...
Post-Action
Red Hulk: Did you find Hulk?
Loki: I believe I'm extremely close. I just need to call in the help of...
Red Hulk: Some friends of yours?
Loki: I almost said it, but honestly, who are we kidding?
Ad blocker interference detected!
Wikia is a free-to-use site that makes money from advertising. We have a modified experience for viewers using ad blockers

Wikia is not accessible if you've made further modifications. Remove the custom ad blocker rule(s) and the page will load as expected.