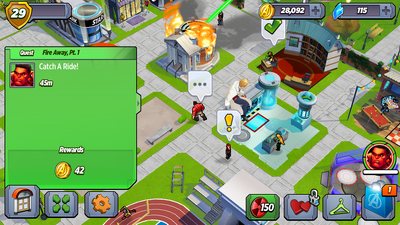 Fire Away, Pt. 1 is a Event Quest, and part of the Gamma Attack! Event. Red Hulk is looking for Hulk in the timefog.
Requirements
Edit
| Character | Action | Time | Location |
| --- | --- | --- | --- |
| Red Hulk | Catch A Ride! | 45m | The Quinjet Hangar (above) |
Quest Dialogue
Edit
Pre-Action
Red Hulk: Where's Hulk?
Black Widow: I don't know. Sometimes I think he's in the timefog, but he disappears. Sometimes I think I see him around campus, then he's gone. Why're you looking for him?
Red Hulk: Payback...
Post-Action
Black Widow: I thought I had a bad temper...
Red Hulk: I don't have a bad temper. I'm angry all the time...
Ad blocker interference detected!
Wikia is a free-to-use site that makes money from advertising. We have a modified experience for viewers using ad blockers

Wikia is not accessible if you've made further modifications. Remove the custom ad blocker rule(s) and the page will load as expected.