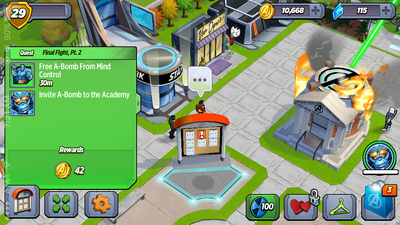 Final Fight, Pt. 2 is an Event Quest and part of the Gamma Attack! limited-time Event. This is the final step to recruit A-Bomb!
Requirements
Edit
Free A-Bomb From Mind Control

Action for Tony
Time: 30m
Location: The Leader's floating platform

Invite A-Bomb To Avengers Academy
Quest Dialogue
Edit
Pre-Action
Wasp: Alright, Tony! I beat him down to nothing, so now you finish him off!
Iron Man: I feel weird about it now. Like you did all the work, and I'm stealing your thunder...
Wasp: You led the way, crazy! Just go knock him out before they turn us all into gross green monsters! You think Hulk heard that? That's really rude. Now I feel terrible...
Iron Man: I don't know. You worry about the green Hulk. I'll take care of the blue one...
Post-Action
Leader: Smash them, you idiotic ignoramus!
A-Bomb: You're not in my head anymore...
Leader: Your head is empty! You're worthless without me! Finish these cretins or run away like every other victim of The Leader's diabolical scheme!
A-Bomb: I'll leave. And I'll come back with the Hulk...
Ad blocker interference detected!
Wikia is a free-to-use site that makes money from advertising. We have a modified experience for viewers using ad blockers

Wikia is not accessible if you've made further modifications. Remove the custom ad blocker rule(s) and the page will load as expected.