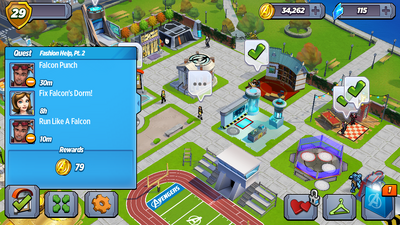 Fashion Help, Pt. 2 is a Storyline Quest. Falcon is training off his nerves while Wasp is redecorating his room.
Requirements
Edit
| Character | Action | Time | Location |
| --- | --- | --- | --- |
| Falcon | Falcon Punch | 30m | Avengers Dorm (punching bag) |
| Wasp | Fix Falcon's Dorm! | 8hr | Avengers Dorm (inside) |
| Falcon | Run Like A Falcon | 10m | Avengers Stadium (track) |
Quest Dialogue
Edit
Pre-Action
Falcon: I'm getting kind of anxious to see what you're doing with my dorm...
Wasp: You're gonna love it!
Falcon: Did you burn anything else?
Wasp: You worry too much! Just go work off some stress, and you'll come back to an awesome dorm, and a garbage full of ashes!
Post-Action
Falcon: Thanks, Wasp. I was worried, but I'm loving what you did with my dorm.
Wasp: You're welcome! Every good hero needs a sweet base of operations.
Falcon: You think Ms. Marvel will like it?
Wasp: Yeah, she has good taste
Ad blocker interference detected!
Wikia is a free-to-use site that makes money from advertising. We have a modified experience for viewers using ad blockers

Wikia is not accessible if you've made further modifications. Remove the custom ad blocker rule(s) and the page will load as expected.