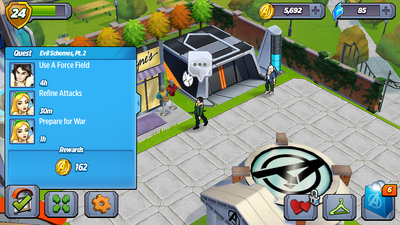 Evil Schemes, Pt. 2 is a Storyline Quest. Loki and Enchantress are honing their skills.
Requirements
Edit
| Character | Action | Time | Location |
| --- | --- | --- | --- |
| Loki + 1 other student | Use A Force Field | 4hr | The Arena Of War (stage) |
| Enchantress | Refine Attacks | 30m | The Blasting Range (firing points) |
| Loki + Enchantress | Prepare For War | 1hr | The Arena Of War (stage) |
Quest Dialogue
Edit
Pre-Action
Loki: I'm glad you agreed to prepare yourself for my upcoming plan...
Enchantress: Of course. I enjoy a good war just as much as the next goddess...
Post-Action
Enchantress: When will our war be starting?
Loki: Soon. I just need to consult my father...
Enchantress: Odin is part of your plan?
Loki: My family will always be included in my plans. Until they cease to exist...
Ad blocker interference detected!
Wikia is a free-to-use site that makes money from advertising. We have a modified experience for viewers using ad blockers

Wikia is not accessible if you've made further modifications. Remove the custom ad blocker rule(s) and the page will load as expected.