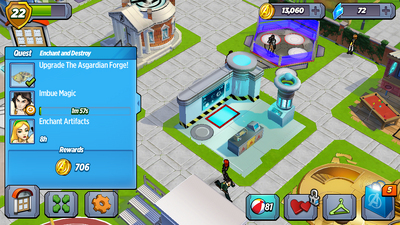 Enchant and Destroy is a Storyline Quest. Loki and Enchantress need to get some enchanting done at the Forge in preparation of their conquest of Asgard!
Requirements
Edit
| Character | Action | Time | Location |
| --- | --- | --- | --- |
| Loki | Imbue Magic | 2m | The Asgardian Forge (magic pool) |
| Enchantress | Enchant Artifacts | 8hr | The Asgardian Forge (magic pool) |
Quest Dialogue
Edit
Pre-Action
Loki: We need to improve the Forge to allow enchanting. We'll need all the power we can get where we're going.
Enchantress: And just where are we going, Loki?
Loki: Home.
Post-Action
Enchantress: Why would we possibly need this much magic?
Loki: I personally like to be prepared when facing an army of angry Frost Giants.
Enchantress: You want to fight Frost Giants in Jotunheim? Are you insane?
Loki: I don't want to fight them. I want to recruit them...
Ad blocker interference detected!
Wikia is a free-to-use site that makes money from advertising. We have a modified experience for viewers using ad blockers

Wikia is not accessible if you've made further modifications. Remove the custom ad blocker rule(s) and the page will load as expected.