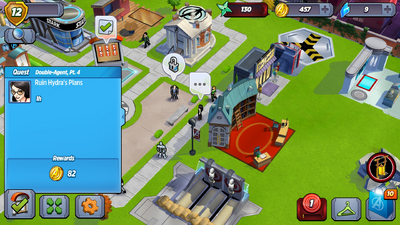 Double-Agent, Pt. 4 is a Premium Quest. Spider-Woman wants to prove she is no longer with H.Y.D.R.A.
Requirements
Edit
| Character | Action | Time | Location |
| --- | --- | --- | --- |
| Spider-Woman | Ruin Hydra's Plans | 1hr | The Quinjet Hangar (Quinjet) |
Quest Dialogue
Edit
Pre-Action
Spider-Woman: I don't think I should stay here...
Nick Fury: I didn't think you were a quitter.
Spider-Woman: No, you think I'm a spy.
Nick Fury: Long as you aren't a Hydra spy.
Spider-Woman: I guess I'll have to prove it to you...
Post-Action
Hydra Enforcer: ...
Spider-Woman: You trust me now? This guy will tell you all about Hydra's plans to build an underground base in the city...
Nick Fury: I knew about that.
Spider-Woman: No you didn't. But it's okay, Fury. Black Widow says you don't trust anyone anyway...
Nick Fury: I don't. But us spies have to stick together.
Ad blocker interference detected!
Wikia is a free-to-use site that makes money from advertising. We have a modified experience for viewers using ad blockers

Wikia is not accessible if you've made further modifications. Remove the custom ad blocker rule(s) and the page will load as expected.