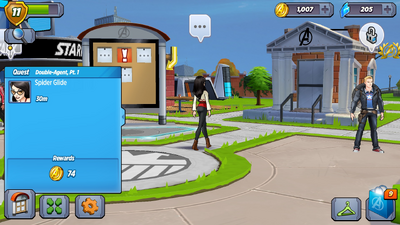 Double-Agent, Pt. 1 is a Premium Quest. It spawns once you purchase the Premium Character Spider-Woman.
Requirements
Edit
| Character | Action | Time | Location |
| --- | --- | --- | --- |
| Spider-Woman | Spider Glide | 30m | Avengers Hall (roof) |
Quest Dialogue
Edit
Pre-Action
Nick Fury: Everybody here knows you used to go to Hydra School.
Spider-Woman: Thanks for making my new classmates hate me.
Nick Fury: I didn't tell them. Gossip is about the only time they show initiative.
Spider-Woman: I told you I'm done with Hydra.
Nick Fury: I believe you. If I didn't, you wouldn't be talking right now. Still, you should demonstrate what you can do to be an asset to the Academy...
Post-Action
Nick Fury: Testing out my campus?
Spider-Woman: Just training to be an Avenger. Isn't that why I'm here?
Nick Fury: It better be.
Ad blocker interference detected!
Wikia is a free-to-use site that makes money from advertising. We have a modified experience for viewers using ad blockers

Wikia is not accessible if you've made further modifications. Remove the custom ad blocker rule(s) and the page will load as expected.