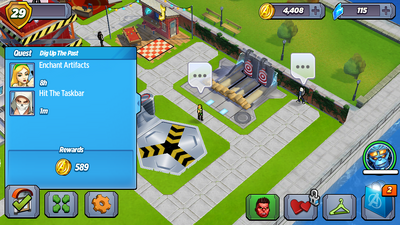 Dig Up The Past is a Storyline Quest. Enchantress and Taskmaster are looking for a way to manipulate Captain America.
Requirements
Edit
| Character | Action | Time | Location |
| --- | --- | --- | --- |
| Enchantress | Enchant Artifacts | 8hr | The Asgardian Forge (magic pool) |
| Taskmaster | Hit The Taskbar | 1m | The Timeless Archives (computer) |
Quest Dialogue
Edit
Pre-Action
Enchantress: We need more information on Captain America. Something from his past that we can twist to convince him to join our cause. I'll see what I can find with my sorcery...
Taskmaster: Haven't you heard of the internet?
Enchantress: Even if I were willing to touch those grubby buttons, do you honestly expect me to search for information in the same place as everyone else? It's disgusting...
Taskmaster: The disgustingness is the best part.
Post-Action
Taskmaster: You find out anything about Cap by dipping stuff in magic?
Enchantress: No.
Taskmaster: Well, he had a friend named Barnes back before he was a Capsicle. Been missing forever, but there's a lot of chatter about him being recently linked to Hydra School.
Enchantress: Impressive investigating, henchman. Captain America will likely do anything for his friend.
Taskmaster: You want me to try to find him?
Enchantress: No. We need to remain as inconspicuous as possible. I'll have someone else do the dirty work...
Ad blocker interference detected!
Wikia is a free-to-use site that makes money from advertising. We have a modified experience for viewers using ad blockers

Wikia is not accessible if you've made further modifications. Remove the custom ad blocker rule(s) and the page will load as expected.