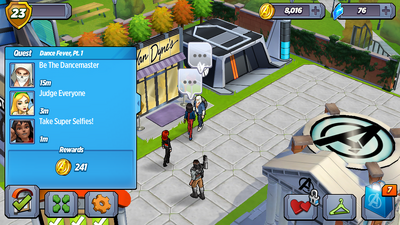 Dance Fever, Pt. 1 is a Storyline Quest. Taskmaster is ready to show his moves to Enchantress.
Requirements
Edit
| Character | Action | Time | Location |
| --- | --- | --- | --- |
| Taskmaster | Be The Dancemaster | 15m | Club A (dance floor) |
| Enchantress | Judge Everyone | 3m | Quad (left bench) |
| Ms. Marvel | Take Super Selfies! | 1m | Paths |
Quest Dialogue
Edit
Pre-Action
Taskmaster: I need to hit the dance floor.
Enchantress: I never pictured you as a dancer...
Taskmaster: It's gonna be hard to learn anything about me when all you ever do is talk about yourself. Dancing isn't all that different from fighting. I've copied the greatest moves from every style...
Enchantress: This should be amusing...
Post-Action
Ms. Marvel: That was so cool! Can you teach me some moves?!
Taskmaster: Sure. I'll show you twelve ways to cripple a man using nothing but your thumb.
Ms. Marvel: I meant dance moves...
Taskmaster: Yeah, no problem. I'll show you those too...
Ad blocker interference detected!
Wikia is a free-to-use site that makes money from advertising. We have a modified experience for viewers using ad blockers

Wikia is not accessible if you've made further modifications. Remove the custom ad blocker rule(s) and the page will load as expected.