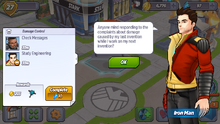 Damage Control is a Mission Board Quest. Iron Man says, "Anyone mind responding to the complaints about damage caused by my last invention while I work on my next invention?"
Requirements
Edit
| Character | Action | Time | Location |
| --- | --- | --- | --- |
| War Machine | Check Messages | 30m | The Timeless Archives (computer) |
| Iron Man | Study Engineering | 30m | The Timeless Archives (book) |
Ad blocker interference detected!
Wikia is a free-to-use site that makes money from advertising. We have a modified experience for viewers using ad blockers

Wikia is not accessible if you've made further modifications. Remove the custom ad blocker rule(s) and the page will load as expected.