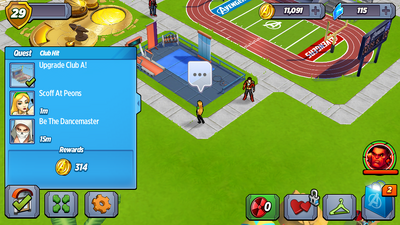 Club Hit is a Storyline Quest. Enchantress and Taskmaster are pretending nothing is going on.
Requirements
Edit
Upgrade Club A! (Stage 3)

Time: 1 day
Cost: 9,452 Credits
| Character | Action | Time | Location |
| --- | --- | --- | --- |
| Enchantress | Scoff At Peons | 1m | Club A (bar) |
| Taskmaster | Be The Dancemaster | 15m | Club A (dance floor) |
Quest Dialogue
Edit
Pre-Action
Taskmaster: Who you got looking for Cap's buddy Barnes?
Enchantress: There's a Hydra Enforcer under my spell. He's been in one of their cells since our last adventure, but I've been having him tunnel out ever since.
Taskmaster: With his bare hands?
Enchantress: What's left of them.
Taskmaster: What do you want me to do?
Enchantress: Interact with our classmates. Act as if nothing is afoot. Be ready for war...
Post-Action
Taskmaster: You look even meaner than usual.
Enchantress: The Hydra fool is useless. He says they're constantly bringing in prisoners and recruits, but there's never been anyone named Barnes.
Taskmaster: Why don't you let me try to recruit Cap? We're probably the only two guys in the world who walk around carrying shields. It's gotta be worth something.
Enchantress: Just don't fail me, henchman. The Hydra Enforcer learned what I do with men who serve no purpose...
Ad blocker interference detected!
Wikia is a free-to-use site that makes money from advertising. We have a modified experience for viewers using ad blockers

Wikia is not accessible if you've made further modifications. Remove the custom ad blocker rule(s) and the page will load as expected.