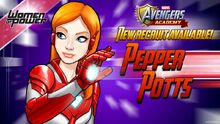 The Women Of Power event lasted from 3/20/2016 to 3/28/2016 in celebration of International Women's Day. This was part of a multi-platform push from Marvel across all of their media. The Event page with more info is here.
As part of the event, Pepper Potts became a limited-time recruitable character. Her recruitment quest is To The Rescue! (Limited Time!). The questline for the event starts with She Means Business, Pt. 1.
Pages in category "Women Of Power Event"
The following 27 pages are in this category, out of 27 total.
H

P

R

S

S cont.

T

T cont.

W
Ad blocker interference detected!
Wikia is a free-to-use site that makes money from advertising. We have a modified experience for viewers using ad blockers

Wikia is not accessible if you've made further modifications. Remove the custom ad blocker rule(s) and the page will load as expected.