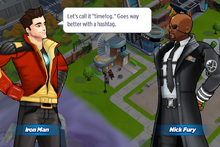 The timefog is a mysterious, space-and-time bending haze that covers areas around the Academy. Nick Fury chose this location for the Academy specifically because of its proximity to the mysterious substance. The mystery of the timefog quickly becomes a focal point for the overall story of Avengers Academy.
This category is for detailing the Zones available to unlock in the timefog. In addition to adding more space to the Academy campus, unlocking timefog zones also unlocks new buildings and characters, and allows players to progress in the main story of Avengers Academy.
Pages in category "Timefog Zones"
The following 7 pages are in this category, out of 7 total.