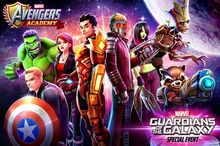 The Guardians of the Galaxy event was an event in Avengers Academy. The event revolves around battling Ronan and The Chitauri. The first quest is Get the Guardians! Pt. 1. The Event page with more info is here.
As part of the event, several characters became recruitable or purchasable. A separate mission board (with a 5 minute refresh time after dismissal) was created, allowing for the obtainment of Energy Crystals.
Pages in category "Guardians of the Galaxy Event"
The following 173 pages are in this category, out of 173 total.
A

B

C

D

E

F

G

G cont.

H

I

L

M

N

O

P

R

R cont.

S

T

W

Y