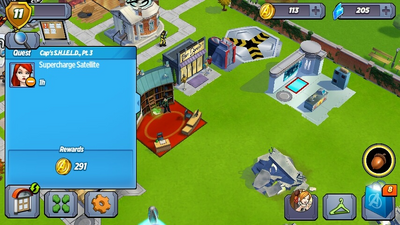 Cap's S.H.I.E.L.D., Pt. 3 is a main Storyline Quest. It is part of the questline to recruit Captain America to your academy.
Requirements
Edit
| Character | Action | Time | Location |
| --- | --- | --- | --- |
| Black Widow | Supercharge Satellites | 1hr | Stark Tower (holo display) |
Quest Dialogue
Edit
Pre-Action
Red Skull: You seem to be very interested in uncovering Hydra's secrets. I decided to visit this pathetic place, and remind you why that is a very poor decision.
Wasp: I'm not afraid of you. Even though I am really grossed-out by you. Black Widow and Falcon are gonna save Mr. Fury...
Red Skull: Save him? I only gave him a tour of Hydra School. He enjoyed it so much that he decided to stay. Permanently. It's best for everyone this way...
Wasp: She's bringing Captain America too.
Red Skull: Then everything is going according to plan...
Post-Action
Black Widow: You sure about this?
Falcon: Positive. I saw it once flying on my own, and once in the Quinjet. Tanks, rubble, fires. A warzone. And right in the middle of it, Captain America's shield. It disappeared after, but I know it was there...
Black Widow: Well, if we're gonna ask the man to go back to war, we should at least get him his weapon...
Ad blocker interference detected!
Wikia is a free-to-use site that makes money from advertising. We have a modified experience for viewers using ad blockers

Wikia is not accessible if you've made further modifications. Remove the custom ad blocker rule(s) and the page will load as expected.