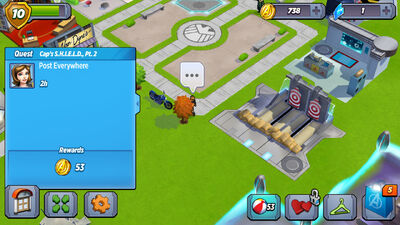 Cap's S.H.I.E.L.D., Pt. 2 is a main Storyline Quest. It is part of the questline to recruit Captain America to your academy.
Requirements
Edit
| Character | Action | Time | Location |
| --- | --- | --- | --- |
| Wasp | Post Everywhere | 2hr | The Timeless Archives (computer) |
Quest Dialogue
Edit
Pre-Action
Black Widow: I need you to get on all of your social media things, and look for anything about Fury or Hydra. I'm sure some of the Hydra School students are on there...
Wasp: I knew you really cared about Mr. Fury as much as the rest of us! And it's about time you respected my spy game...
Black Widow: I don't respect your spy game, but I respect your online presence. Actually, respect isn't the right word...
Wasp: Spy-five!
Black Widow: No. But be careful, Wasp. If Hydra finds out you're digging into their intel, there's no telling who they'll send...
Post-Action
Wasp: Hydra has Mr. Fury for sure. They kidnapped him, and they're holding him at Hydra School. Plus, they never like each other's posts. They're terrible...
Black Widow: Don't worry. I'll handle it...
Wasp: This is serious, Natasha. You can't do it all by yourself.
Black Widow: Just trust me. Falcon wants to help. And he knows a guy who can handle anyone that wants to stand in between us and Fury...
Ad blocker interference detected!
Wikia is a free-to-use site that makes money from advertising. We have a modified experience for viewers using ad blockers

Wikia is not accessible if you've made further modifications. Remove the custom ad blocker rule(s) and the page will load as expected.