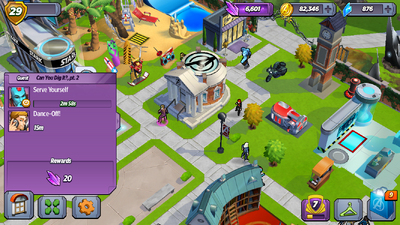 Can You Dig It?, pt. 2 is a Storyline Quest and part of the Guardians of the Galaxy limited-time event. Yondu didn't manage to dig up Fury's secrets, so he's looking for new ideas.
Requirements
Edit
| Character | Action | Time | Location |
| --- | --- | --- | --- |
| Yondu | Serve Yourself | 3m | Club Galaxy (table) |
| Star-Lord | Dance-Off! | 15m | Club Galaxy (dance floor) |
Quest Dialogue
Edit
Pre-Action
Star Lord: You're heading to Club Galaxy?
Yondu: Yeah, I need to quench my thirst, and reeavaluate my approach to tracking down this treasure.
Star Lord: I can help you...
Yondu: How? With your stupid dancing?
Star Lord: Someday I'll save a whole planet with my stupid dancing. You'll see...
Post-Action
Yondu: I've decided to let you tag along on this little journey, Quill.
Star Lord: Nice. Because of those smooth moves?
Yondu: Because I'd rather not fight all these Avengers by myself...
Ad blocker interference detected!
Wikia is a free-to-use site that makes money from advertising. We have a modified experience for viewers using ad blockers

Wikia is not accessible if you've made further modifications. Remove the custom ad blocker rule(s) and the page will load as expected.