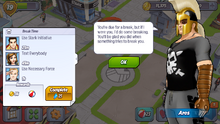 Break Time (Ares) is a Mission Board Quest. Ares says, "You're due for a break, but if I were you, I'd do some breaking. You'll be glad you did when something tries to break you."
Requirements
Edit
| Character | Action | Time | Location |
| --- | --- | --- | --- |
| Iron Man | Use Stark Initiative | 25m | Stark Tower (hot tub) |
| Wasp | Text Everybody | 45m | Paths |
| Captain America | Use Necessary Force | 1hr (15m with WWII Captain America outfit) | The Robo Dojo (arena) |
Ad blocker interference detected!
Wikia is a free-to-use site that makes money from advertising. We have a modified experience for viewers using ad blockers

Wikia is not accessible if you've made further modifications. Remove the custom ad blocker rule(s) and the page will load as expected.