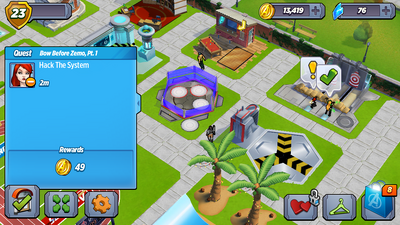 Bow Before Zemo, Pt. 1 is a Storyline Quest introducing Baron Zemo.
Requirements
Edit
| Character | Action | Time | Location |
| --- | --- | --- | --- |
| Black Widow | Hack The System | 2m | Stark Tower (holo display) |
Quest Dialogue
Edit
Pre-Action
Falcon: Hey, I'm Falcon. Our admin Pepper Potts said you aren't all the way sold on attending the Academy, so she wants me to show you what we can offer as teammates, and as a training institution.
Baron Zemo: Zemo is not impressed.
Falcon: With which part?
Baron Zemo: With all the parts.
Falcon: Okay, well, I'm just gonna do my thing, so tell me if you have any questions.
Baron Zemo: Zemo takes orders from no one!
Post-Action
Falcon: I hope you join the Academy. I know some people here are iffy on it, but it would be great to have somebody with inside info on Hydra.
Baron Zemo: Hail Hydra!
Falcon: I thought they kicked you out of Hydra School...
Falcon: Right. Well, I did my part, so let's get another genius to give you the tour...
Ad blocker interference detected!
Wikia is a free-to-use site that makes money from advertising. We have a modified experience for viewers using ad blockers

Wikia is not accessible if you've made further modifications. Remove the custom ad blocker rule(s) and the page will load as expected.