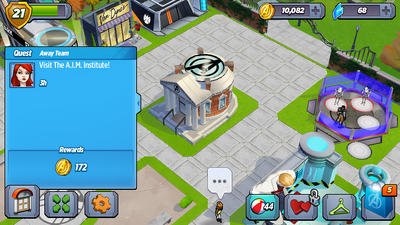 Away Team is a Storyline Quest. Since hacking A.I.M.'s systems failed, Black Widow decides to investigate the place in person.
Requirements
Edit
| Character | Action | Time | Location |
| --- | --- | --- | --- |
| Iron Man + Wasp + Black Widow | Visit The A.I.M. Institute! | 3hr | The Quinjet Hangar (Quinjet) |
Quest Dialogue
Edit
Pre-Action
Black Widow: I'm going with you and Wasp to A.I.M.'s Super-Science Fair just in case there's trouble. Where's your experiment?
Iron Man: Oh, you mean my perfect Tony Stark Life-Model Decoy?! He's already buckled in the Quinjet with a warm towel, and some roasted peanuts.
Black Widow: I'm pretty sure we're walking into a trap. I know it's almost impossible for you, but you need to take this seriously.
Iron Man: Definitely. I'm gonna go see if robo-Tony wants me to freshen his towel!
Post-Action
Wasp: It's okay, Tony. I still think you're a really super scientist.
Iron Man: And a sore loser. And they cheated.
Wasp: At least it wasn't a trap. And Professor Pym will think it's awesome that my Pym Particle experiment worked perfect.
Iron Man: You should've won. If robo-Tony didn't mysteriously go haywire, I would've won. A.I.M. just wanted to embarrass us, but nobody embarrasses me but myself. If they want a nerd war, they've got one...
Ad blocker interference detected!
Wikia is a free-to-use site that makes money from advertising. We have a modified experience for viewers using ad blockers

Wikia is not accessible if you've made further modifications. Remove the custom ad blocker rule(s) and the page will load as expected.