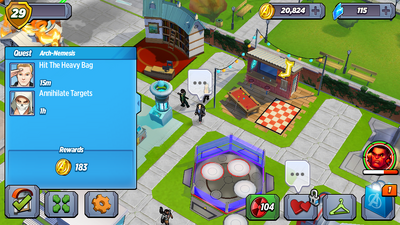 Arch-Nemesis is a Storyline Quest. Taskmaster wants to copy Captain America's moves.
Requirements
Edit
| Character | Action | Time | Location |
| --- | --- | --- | --- |
| Captain America | Hit The Heavy Bag | 15m | Avengers Dorm (punching bag) |
| Taskmaster | Annihilate Targets | 1hr | The Robo Dojo (arena) |
Quest Dialogue
Edit
Pre-Action
Taskmaster: I wanna fight you. Nothing personal, but you've seen more battle than anybody here, and that'll be the fastest way for me to pick up your moves.
Captain America: Sure, I'm about to train, but after that we can spar.
Taskmaster: Great. Just so we're clear though, I'd rather fight than spar. I won't be able to see everything you have unless you go all out.
Captain America: All out is the only way I go.
Post-Action
Taskmaster: It's crazy how you train. Constant maximum effort with zero wasted motion. I've never seen anybody move like that.
Captain America: I'm just a kid from Brooklyn.
Taskmaster: What's that have to do with anything?
Captain America: Nothing. It's just what I always say when people give me a compliment.
Ad blocker interference detected!
Wikia is a free-to-use site that makes money from advertising. We have a modified experience for viewers using ad blockers

Wikia is not accessible if you've made further modifications. Remove the custom ad blocker rule(s) and the page will load as expected.