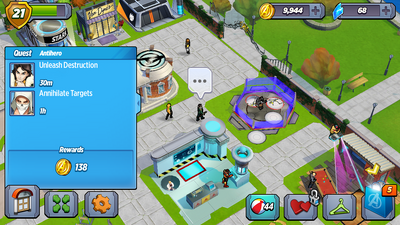 Antihero is a Storyline Quest. Now that Taskmaster has finally joined the Academy, it's time to start training!
Requirements
Edit
| Character | Action | Time | Location |
| --- | --- | --- | --- |
| Loki | Unleash Destruction | 30m | The Robo Dojo (arena) |
| Taskmaster | Annihilate Targets | 1hr | The Robo Dojo (arena) |
Quest Dialogue
Edit
Pre-Action
Taskmaster: Where's a guy go to destroy something around here?
Loki: There's no wrong place for destruction. Am I right?
Taskmaster: Just answer the question. I need to knock some rust off. Especially if we're about to go fight ice ogres.
Loki: Frost Giants.
Taskmaster: Whatever. You don't gotta get all emotional about it.
Post-Action
Taskmaster: That's more like it. Let's go fight some giants.
Loki: I told you before. The plan is to recruit them. To bring them back here to destroy Avengers Academy, and defeat my father. Fighting them is our last resort.
Taskmaster: Don't invite Taskmaster if you don't want a fight.
Loki: You spent a lot of time on that line, didn't you?
Taskmaster: Nothing wrong with having a catchphrase...
Ad blocker interference detected!
Wikia is a free-to-use site that makes money from advertising. We have a modified experience for viewers using ad blockers

Wikia is not accessible if you've made further modifications. Remove the custom ad blocker rule(s) and the page will load as expected.