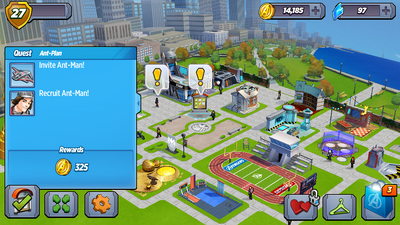 Ant-Plan is a Storyline Quest. It is the Recruitment Quest for Ant-Man.
Requirements
Edit
Invite Ant-Man to the Academy!
Recruit Ant-Man:

6,686 Credits
Collect 40 Bad Disguises
Collect 65 Avengers Textbooks
1 Search For Clues
| Character | Action | Time | Location |
| --- | --- | --- | --- |
| Black Widow | Search For Clues | 1m | Paths |
Quest Dialogue
Edit
Pre-Action
Ant-Man: Thanks for ignoring my past, and giving me a shot, Director Fury. Only thing I'll need is a map of the campus, including blueprints detailing any underground tunnels and structures.
Nick Fury: ...
Ant-Man: Just so I can help my ant friends house-hunt. Unless you don't trust me...
Nick Fury: I don't trust anyone. But I'll give you the intel because I trust you're not stupid enough to steal from Nick Fury.
Ant-Man: You can trust me, but you should also know I'm pretty stupid.
Post-Action
Ant-Man: What's in the five underground vaults that aren't on any of the maps?
Nick Fury: Ant spray.
Ant-Man: Must be some serious spray to be putting off that much energy.
Nick Fury: Curious ants require serious spray.
Ad blocker interference detected!
Wikia is a free-to-use site that makes money from advertising. We have a modified experience for viewers using ad blockers

Wikia is not accessible if you've made further modifications. Remove the custom ad blocker rule(s) and the page will load as expected.