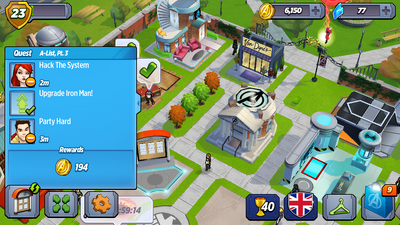 A-List, Pt. 3 is a Storyline Quest. The cheese fridge is incredible.
Requirements
Edit
Upgrade Iron Man! (Rank 4)
| Character | Action | Time | Location |
| --- | --- | --- | --- |
| Black Widow | Hack the System | 2m | Stark Tower (holo display) |
| Iron Man | Party Hard | 3m | Club A (inside) |
Quest Dialogue
Edit
Pre-Action
Black Widow: I need to use Stark Tower to see if this intel is accurate about the hidden energy sharing properties with the timefog.
Iron Man: I'm gonna go party at the Lounge, so do whatever.  Help yourself to the cheese fridge.
Black Widow: ...
Iron Man: Because I really like cheese, and I happen to have a lot of money, so I have a second fridge full of nothing but cheese. You can act like you don't like people, but don't act like you don't like cheese.
Black Widow: Of course I like cheese...
Post-Action
Iron Man: If you ever learn how to have fun, you have to go to one of those Lounge parties. Plus, you'll be proud to know that I overheard Loki saying he uses magic to crack Fury's security.
Black Widow: Nice work, Stark. I used your tech to confirm the hidden energy is similar to the timefog, and its helped me zero in on its exact location.
Iron Man: And...?
Black Widow: And your cheese fridge is incredible.
Iron Man: Mission accomplished.
Ad blocker interference detected!
Wikia is a free-to-use site that makes money from advertising. We have a modified experience for viewers using ad blockers

Wikia is not accessible if you've made further modifications. Remove the custom ad blocker rule(s) and the page will load as expected.